Author: Karen Cunningham
Time to read: About 13 to 14 minutes
Chapter 1 - Do you have to leave?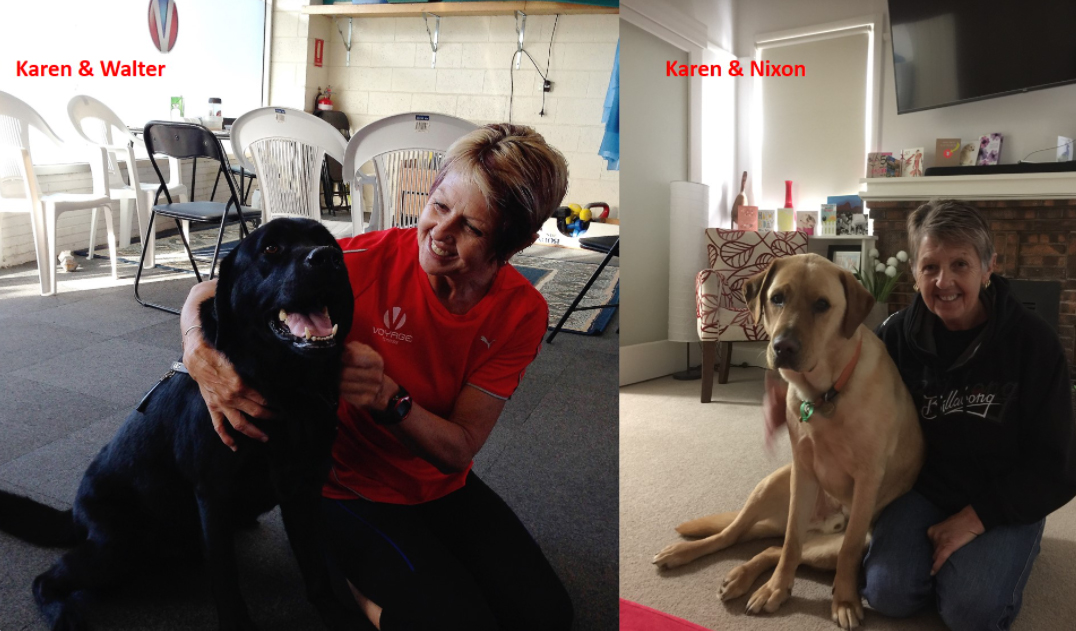 To say a final farewell is one of the hardest things in life to endure. To have to say this to our furry loved one is excruciating.
This is Seeing Eye Dog Walter's final moments.
He is tired and visibly weak. No longer can he lead his beloved Nina. His eyes said all that had to be said. This is our last goodbye.
Walter was not only Nina's Seeing Eye Dog but her best friend. He was her everything. He was also our friend. We too felt his parting. How was Nina to cope without Walter by her side. He was there for every part of Nina's life. Her moments were his moments. Who was going to continue Walter's legacy?
Little did we know that a puppy by the name of Nixon was going to be "the one".
Chapter 2 - Why is?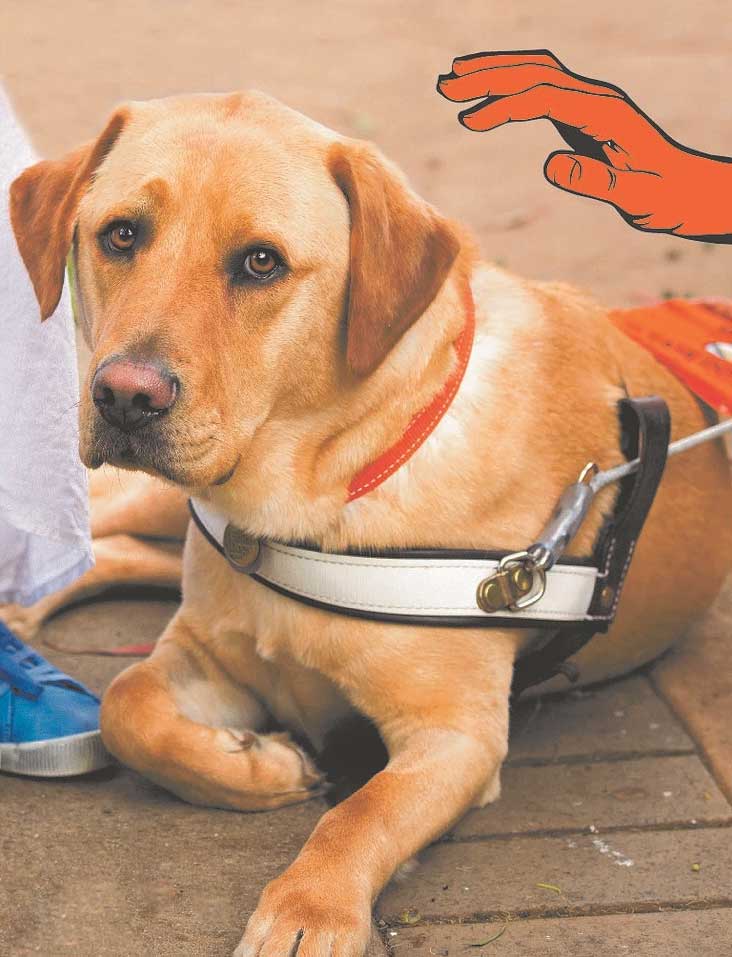 Why do people have this uncontrollable urge to PAT an Assistance Dog?
They don't have the urge to pat Police, Security, Search & Rescue dogs. Not even farm working dogs. Why is this so when they are all "dogs at work"?
Are they aware of this being detrimental to the bonding and training with their handler? Not to mention their overall focus and safety.
I became aware of this phenomenon from the very start, when wanting to pat Walter and Nixon myself. If I could resist this urge, why couldn't others? Was it because I was being educated and I was determined to not only pass with flying colours but had honours in my sight?!
Why can't we educate the general population?
You have the greatest gift of all - your dog. You and your dog will overcome all challenges that may lay ahead. They have a job to do.
To lead the way!
Chapter 3 - What is he thinking?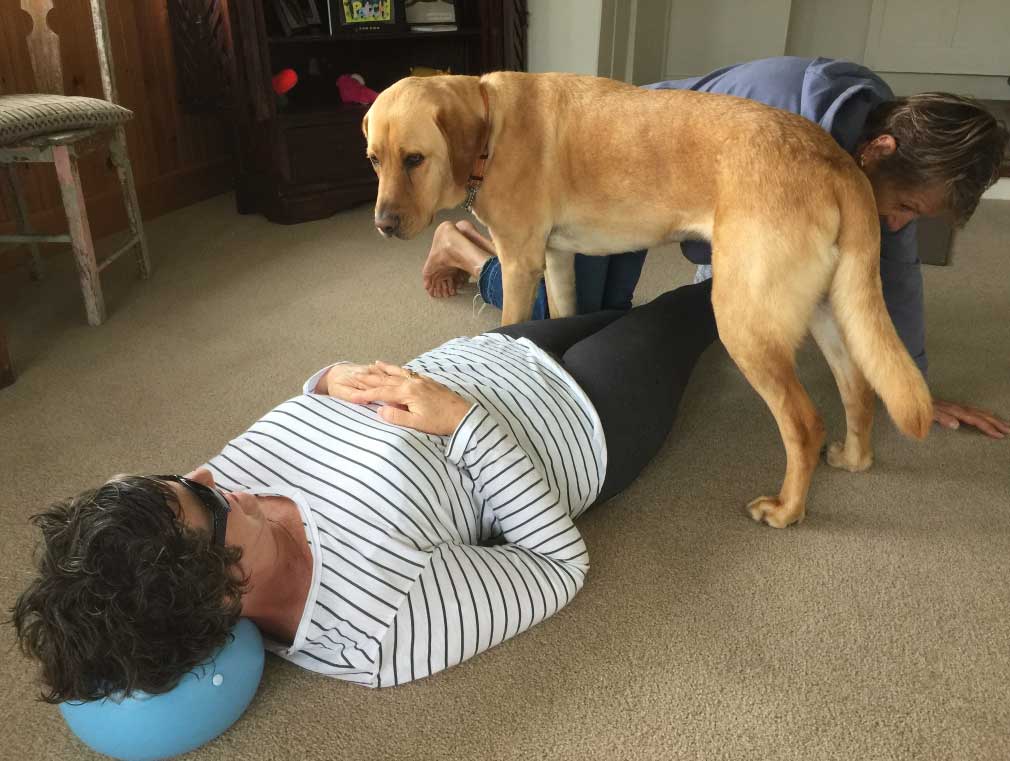 Head slightly cocked to the side. Intent stare. Bewildered look. He obviously wants our attention. He proceeds to leave the room, only to re-enter with a toy to show us. This, he repeats numerous times with a different toy. Each toy being dropped beside us, shaken or thrown in the air. Nixon still hasn't got our undivided attention so he executes his master plan: lying down on top of Nina's legs and wagging his tail in my face. OK Nixon, you win. We stop doing our Pilates/stretching session. "Do you want to join in?" I ask him, although we had already know that he does. So there we were, the three of us, side by side, attempting Pilates/stretching. He is still sensing everything.
As funny as I thought he was, Nina quickly fell silent and was tuning into Nixon. She immediately sensed he was trying to tell her something. What could it be? Ahh! He knew it was time for her to rest. And he was right, as usual. Intrigued by his own way of communicating with Nina, I asked, once again, 1001 questions. All at once, Nina quietly shared an experience of a trip to Japan with Nixon by her side. On one day asking him to "Up Up" (because he was just meandering) no response from Nixon was given. He was determined to get a message across to his Nina. "No Up Up to me - you on the other hand, need to slow slow down. I know that your leg hurts."
Message taken.
Chapter 4 - Instincts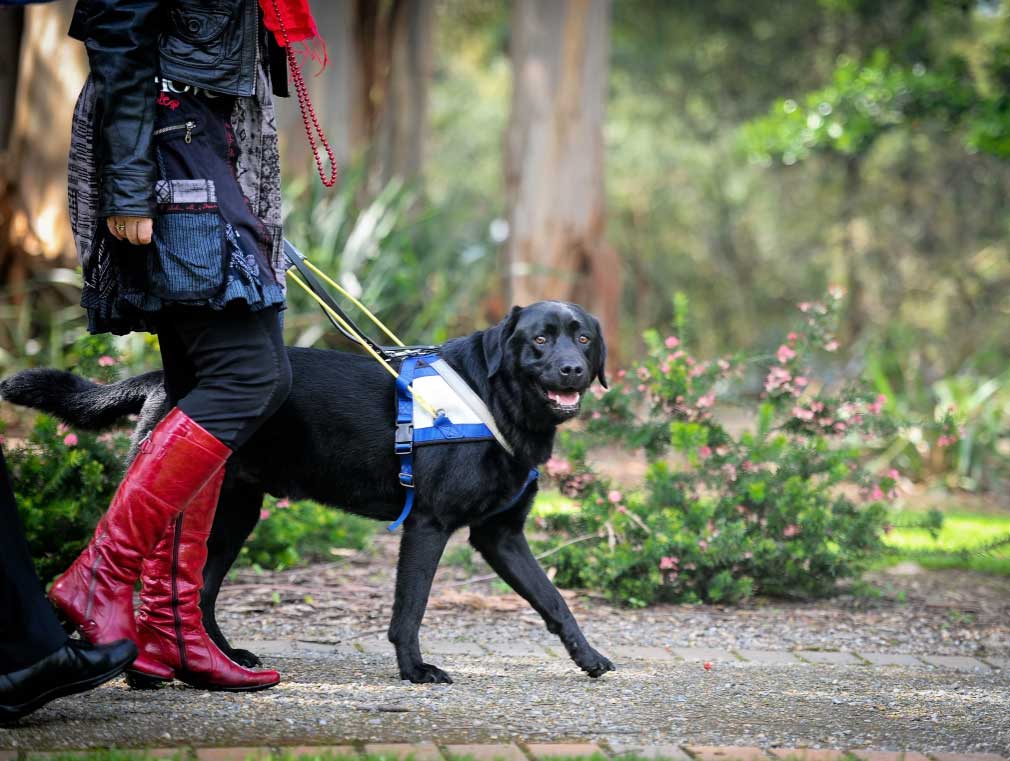 How often do we read or hear about our four-legged friends' acts of heroism? Of how they survived a disaster....or how they saved not only their life but that of someone else. Is it a natural calling? Is it instinct? Is it in their training? OR, is it simply the love that they have for you, their handler? They are dedicated to you and your needs.
Hmm...I often wonder whether humans have these same instincts. The jury is out on this one. No matter what happens to you when travelling overseas, give your dog credit. You are not alone. S/he has all the natural instincts and training to enable you to feel safe and secure. Don't ever underestimate their decisions while you travel....they will always lead the way.
Chapter 5 - I can do this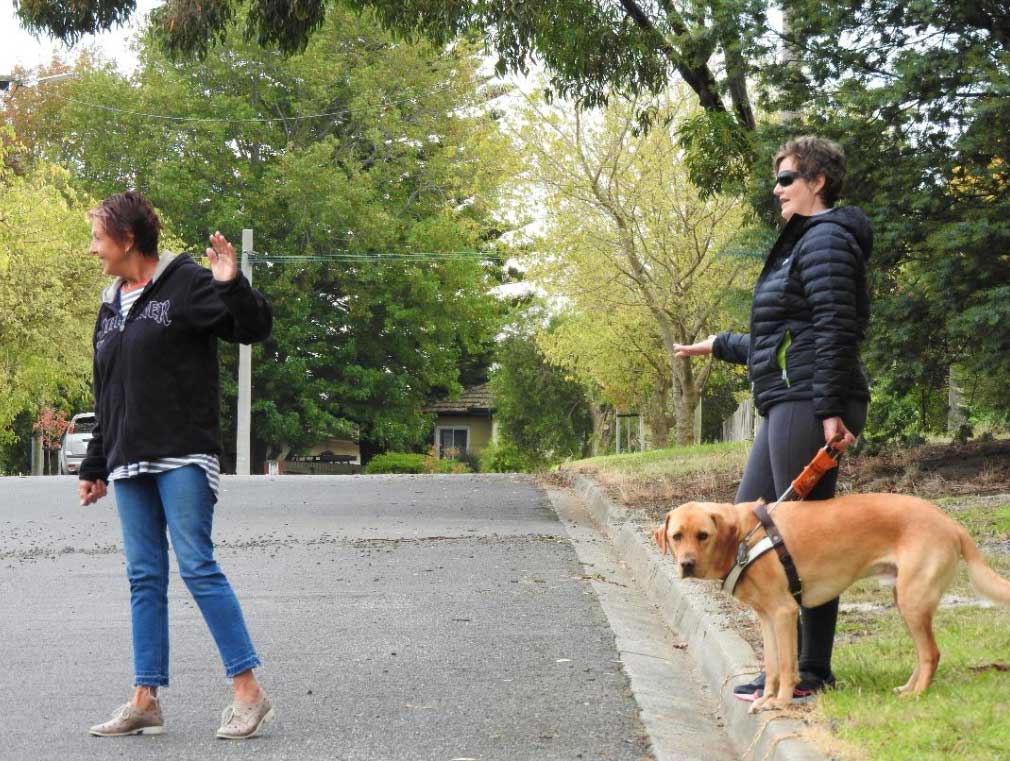 I love going for a walk with my fur babies. Meandering along, daydreaming and relaxing. How easy is that!
Not so easy when I tag along with Nina and Nixon.
Meandering has changed to a steady pace. Daydreaming is non-existent. Chatting limited. Short cuts off limits and crossing roads is an absolute nightmare for me. And they are the key words, "for me".
Why is it that I feel I know better than Nixon?
Example... I like crossing the road.
'STOP. Quick, walk fast, jog. Keep going, the car will slow down when the driver sees us. Step off the curb so the cars see that we want to cross the road. C'mon let's go now, oh no, wait. Oh no, we can't go. Wait, it's a truck. They never slow down for pedestrians. Gee, it's a bike -that shouldn't be on the road there'.
Obviously, I take the risk, but Nixon would never take a risk. That's why it's me that gets the stern reprimand from Nina.
"Don't interfere with Nixon and my decisions while he is working".
They are always communicating with each other without words. Nina is guided by Nixon through the harness. He would never put his beloved Nina in a compromising situation. He knows better. He is always watching their environment. Anticipating. Ready for any obstacles. He won't be distracted while he is working. His concentration will never be compromised.
He has a job to do. To lead the way.
And ...ignore me totally.
Good move Nixon. Great decision making.
Chapter 6 - Not Bad After All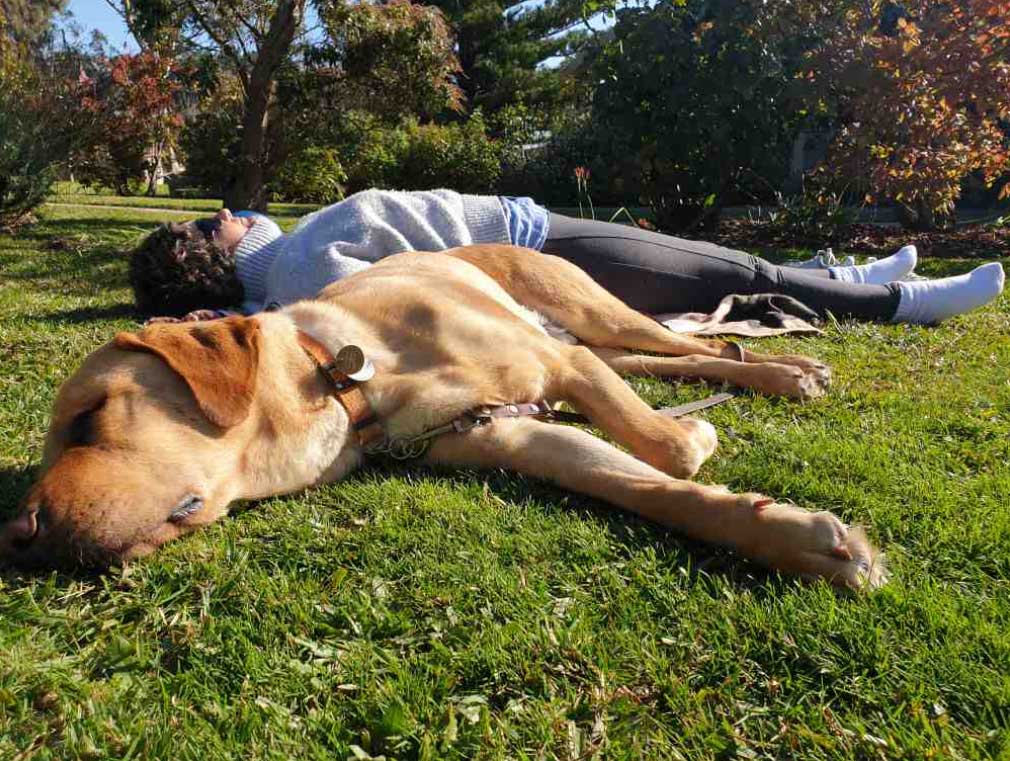 Meditation is not for everyone, but those who do it seem to have that certain kind of calm about them. I decided that this would be extremely helpful for Nina, especially while travelling. A good start to the busy day planned for her and Nixon.
Nina's reply to my suggestion was a firm NO. 'I couldn't lie still for long and concentrate on nothing. Waste of time. I'm too busy when we travel'.
Persistent as I am, I did not relent. She finally gave in to my splendid idea.
The meditation commenced. Nixon sat beside me watching on. After much resistance, Nina finally surrendered. Nixon moved closer. Together, they shared the moment as one. The session ended and Nina opened her eyes to see Nixon sound asleep.
Great news! Nina now loves meditation and so does Nixon.
It has become a daily activity and will be especially beneficial while they are travelling.
And here they go together with Nixon leading the way.
Chapter 7 - Our Game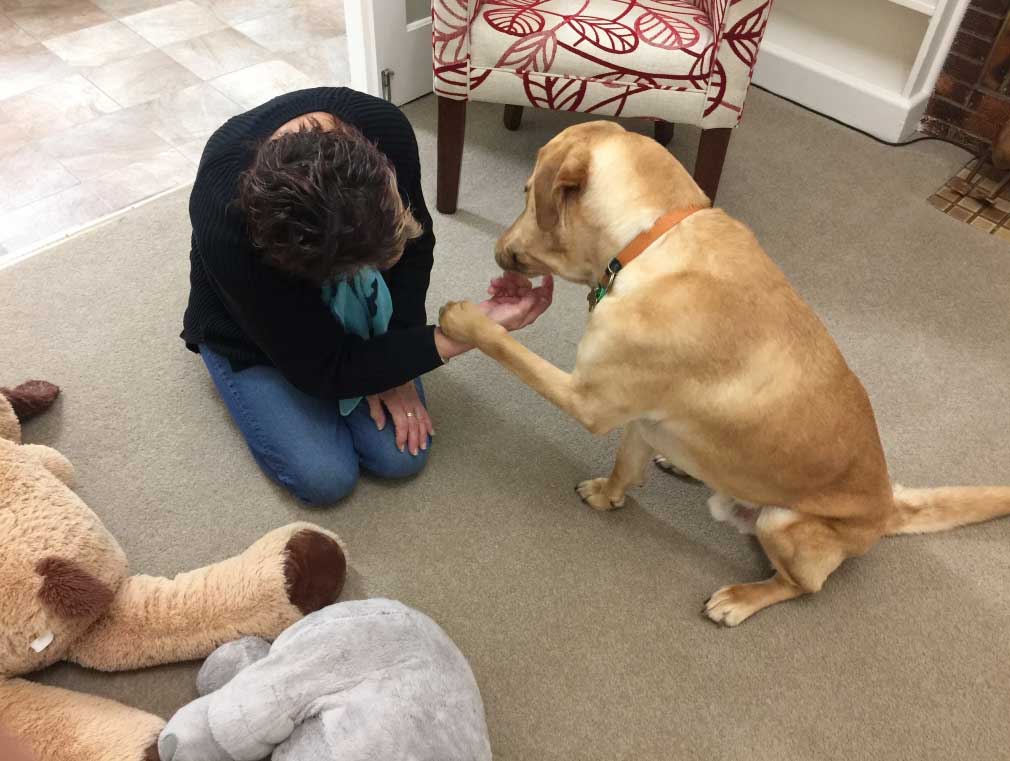 Even though Nina and I have a close relationship, Nixon and I have our own relationship, our own work ethics, our own games, and our own rules (none!). Our play time is "OFF LIMITS TO NINA."
Our favourite game is the "Tongue Game".
Nina would always be in hysterics watching our game.
Both of us concentrating on our opponent. Winning in our sights. No room for losers in this game. Trying different tactics, strategically planned prior to the game. Repositioning our bodies to get a better advantage point. Staring at each other trying to intimidate the other. Both of us intent on outwitting the other. Now it's time, game on. There are no set rules. No set time. No setting up. No cleaning up. No health risks. Simple fun.
The game starts with Nixon licking my hands till they are clean and there is barely any skin left on them. I now try to grab his tongue and hold it for few seconds. With his mouth open wide, his pink tongue will come at me from any direction. I wait, fingers ready to quickly grab my slippery target. The intensity between us has now lifted to a higher level. The battle can last for any length of time. Really, it is up to who wants to surrender and leave the battlefield first. Nixon usually submits to my efforts to winning, or, really, he gets bored and tires of me. In fact, I think he retires to rest his tongue muscles and create more saliva. I know he is planning strategic tactics for the next match.
All work and no play make Nixon a dull boy. All working dogs deserve some down time just as we do. How we cater for our shared down time will obviously depend on our differing personalities. Interestingly enough, Nixon plays different games with me than the games that Nina offers.
Chapter 8 - Master Chef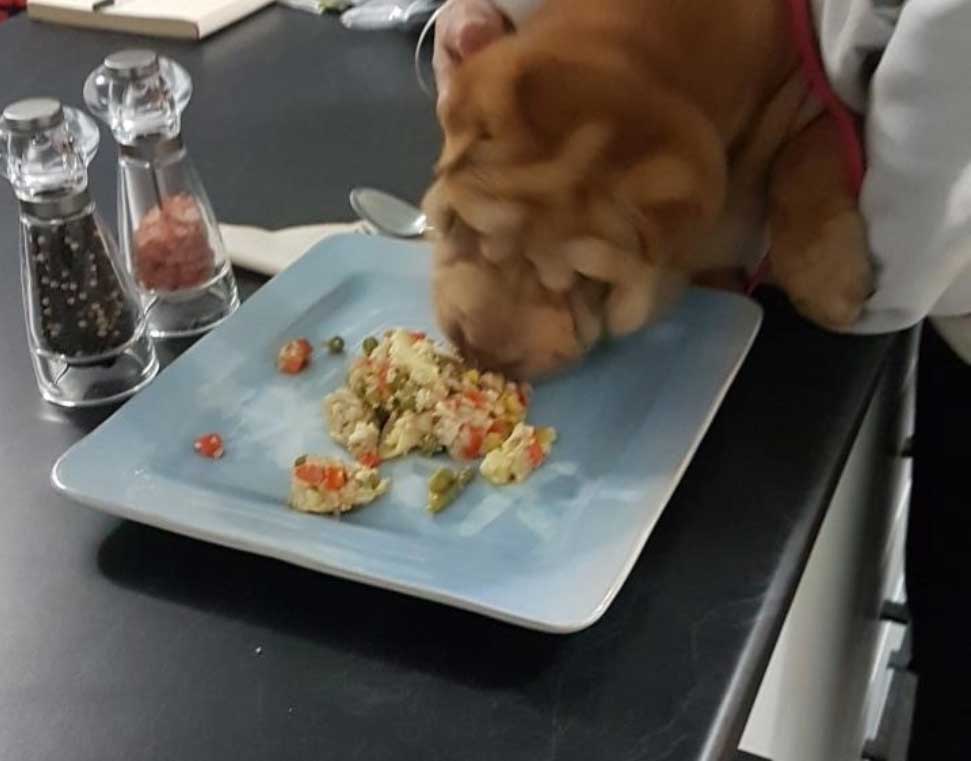 Tooki has decided that it is time to cease her full time job.
Quit, Resign, Retire. Flee the country if necessary.
She doesn't care about holiday pay, severance pay, overtime or superannuation. Nothing.
Final. Kaput. Over, Done. No more.
Time to wean the puppies. The 24 hour open Milk Bar Self-Serve is now closed.
The job of looking after the puppies has been delegated to yours truly, me. I will step up to the dinner plate. The job is mine. My puppies will not starve, not on my watch.
They cry, I feed. They whimper, I feed. They sit, I feed. They look at me a certain way, I feed. They sneeze, grunt, groan, cough, I feed. I feed. I feed. I feed.
I have a new found talent. I simmer, fry, boil, steam, grill, baste, sauté, marinade, chop, slice, dice etc. You name it, I cook. I should go on Master Chef. And I might add, my puppies LOVE the delicious meals that I present to their awaiting watering mouths. I'm a success.
Upon relaying to Nina my newfound career, I offered to put some of my cooked meals in containers for Nixon on the next plane trip. With a shake of her head and her voice repeating the words, NO!, I couldn't believe what I was hearing. It was definitely no problem. Maybe she wasn't sure when the containers could be returned.
Silly me, wrong again. Nina explained the feeding procedure she takes when flying with NIxon. Limiting his food and water before they board the plane. Food will encourage him to toilet. It could make him vomit. It could upset his tummy, dehydrate him or give him an energy boost. The idea is for him to completely relax and slow down his energy levels. Makes sense..
Nina will only give him an ice cube to stop dehydration or 1-2 kibble if he looks starving.
My final words to Nina were. "So the air hostess doesn't even offer Nixon refreshments or nibbles. Do you pay extra for that?"
No wonder Nixon leads the way and not me.
Chapter 9 - Family Outing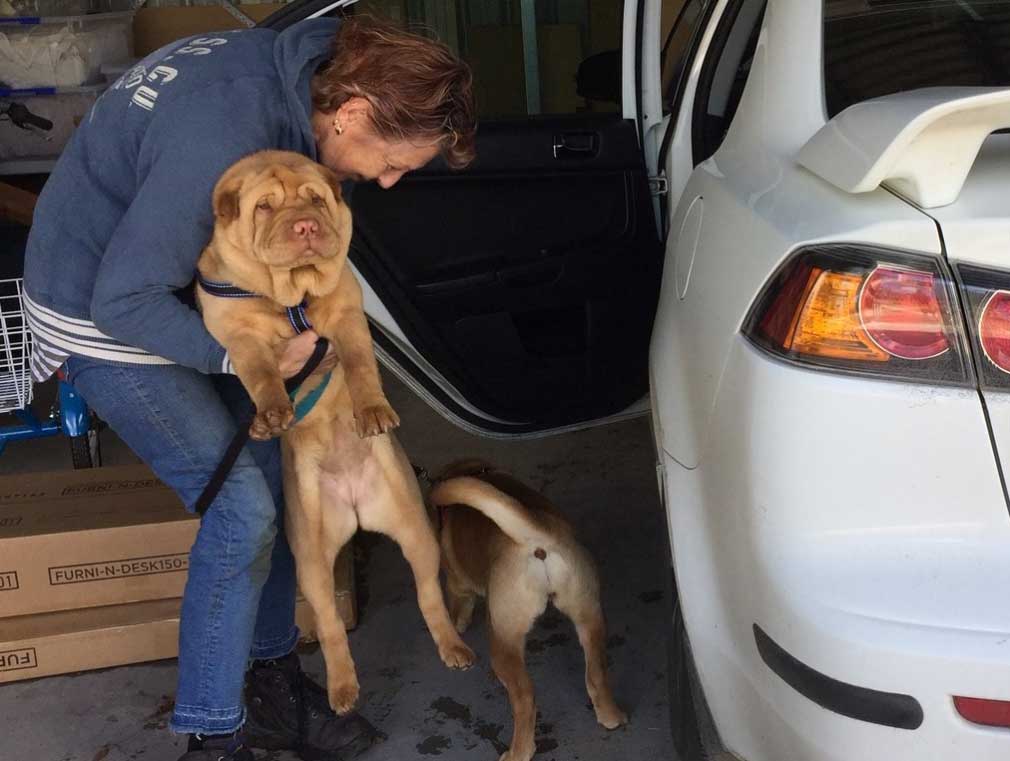 6.30 am. Alarm goes off.
Big day for the whole family. Mum, Dad and their two daughters. I am the designated driver.
Breakfast made and eaten. Plates washed, hair done, horses fed and stables cleaned. Play with the girls (can't resist). Now me. Showered. Clean clothes, ready to go. I won't let my family be late for their appointment.
Everyone in the car. Mum in the front, dad and two babies in the back. Safety belts on and ready to go. Mum positions herself to let me know that I am being watched. Her evil glare sends her messages to me loud and clear.
Driving too slowly or driving too fast. Heater too hot. Music too loud, now too low. Stop looking at the girls in the rear vision mirror. Watch the corners. If that isn't bad enough then I have my back passengers complaining. Window down. No! Too low. Press it up. Made it. We are here, ten minutes of hell. I need a drink, wine, beer, vodka, gin, sherry, I don't care. I will drink them all. Worst of all, I don't drink.
Oh well, one good thing is I have twelve months to recover before the next vet check and vaccinations.
Guide Dog Nixon, on the other hand is a well-behaved gentleman. A visit to the vet, no problem. A car, bus or train trip, easy. An international flight, a piece of cake.
"Well Karen, Nixon is an extremely well-trained Assistance Dog", Nina said. 'So maybe, just maybe, your training methods, style, techniques, skill or who knows what you do, are to be questioned."
"Just saying"
Chapter 10 - Wee can pee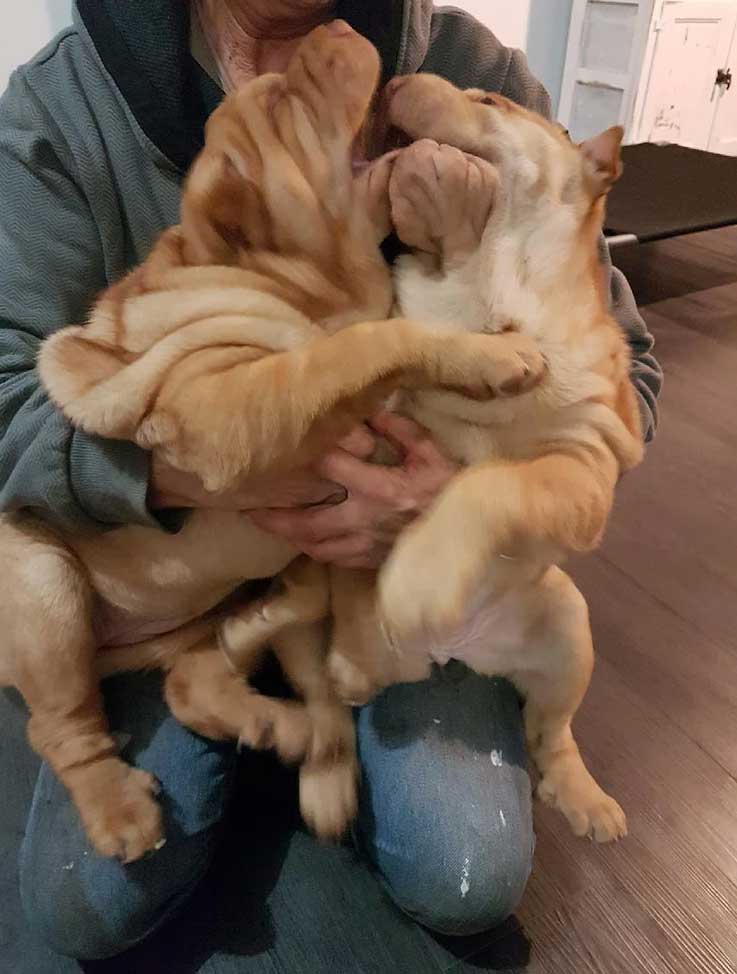 The time has come to house train my two puppies.
I sit down with these two cute as button girls and proceed to explain the importance of toileting outside and not in the house.
They are not paying much attention to me (as usual), but I am sure they fully understand my plan. I will watch their every movement. I will follow them constantly. I will be relentless.
Big shock! They run in different directions. They take flying leaps on the lounge chairs. They slide across the floor. They run into themselves. They ricochet off walls. They are out of control. I can't keep up. Then it happens.
One is sniffing and circling. Quick. Get her outside. Scooped up in my arms and running for the door. Outside, put her down on the grass. Success.
Happy days... till I get back in the house, only to be stared at as the other puppy quickly squats and pees.
These 2 girls are never to be trusted. They are to be watched at all times. You must be one step ahead of them always. Don't be fooled by their cuteness. Our vet an vouch for that "golden rule".
Once again, I ask Nina "Do you ever worry about Nixon peeing on air hostess's stockings?"
"No" is her giggling response. "Flight attendants are well and truly safe with his toileting.
He definitely has better social skills than your out of control lovable furry babies.
But remember Karen, they are doing their job".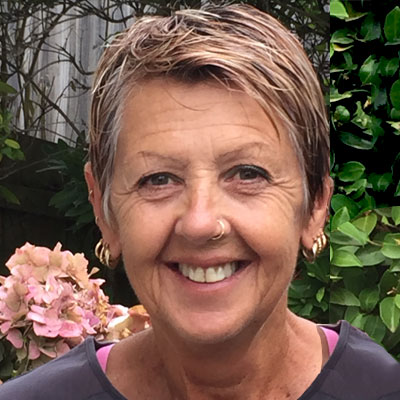 About Karen
Hi, my name is Karen.
I am part of Nina's extended family. I knew Nina's first Seeing Eye Dog, Walter. I was a significant part of both their lives as I am with her current and second Guide Dog, Nixon. This is their ongoing story seen though my eyes, a person with no prior knowledge of Assistance Dogs but with a deep love of my furry babies. Talk soon.