Tourism Sector
Access
Time to read: Approximately 2 minutes
As working dogs who are trained to aid Handlers in their everyday lives, Assistance Dogs have a right to go everywhere their Handler goes, with very few exceptions. Here we have listed a few key points about the public access rights of Assistance Dogs.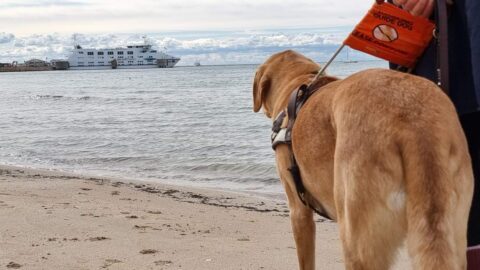 What to know about public access:
A person using an Assistance Dog is allowed entry into all public places and rightly so. The only exception is intensive care or burns units, commercial kitchens and some areas of zoos.
It is an offence to deny access to an Assistance Dog. Police and other authorised officers can issue on-the-spot fines or take further action on any violation of these access rights.
Accommodation venues cannot ask for cleaning fees up front for dogs. It's illegal.
There is no excuse for ignorance of this law in modern day society. Refusals are demoralising and degrading. Refusals stop Handlers getting to work, keeping necessary appointments, living their lives and getting from A to B safely. TravelPaws appeals for all of us together to stamp out refusals wherever we witness them.
Taxi and Rideshare refusals are particularly prevalent. Drivers frequently refuse to carry Assistance Dogs or drive right past Handlers when they see the Assistance Dog. This is unacceptable. TravelPaws would like to stress that;

Assistance dogs are very well trained and will never bite, lick, or jump. They are well behaved, obedient, and quiet.
Assistance Dogs are regularly groomed.
Assistance Dogs do not get on seats- they sit in the footwell of the car.
Drivers can request that the Handler sit in the back of their car if they are frightened.
These are the key areas that are important to a Handler on holidays: