Taxi and Rideshare Refusals
Time to read: Approximately 3 minutes
Assistance Dogs play a vital role in the everyday lives of their Handlers, according them independence and security. It is therefore crucial that Handlers be able to travel with their Assistance Dogs when utilising taxi or rideshare services.
However, refusals happen constantly...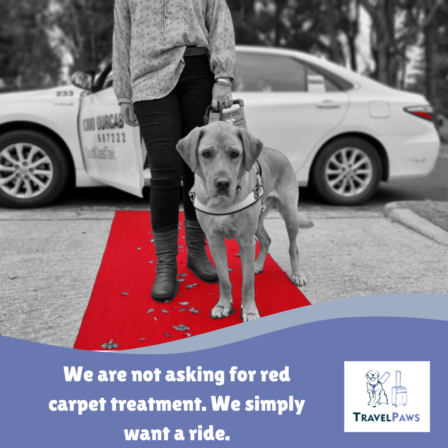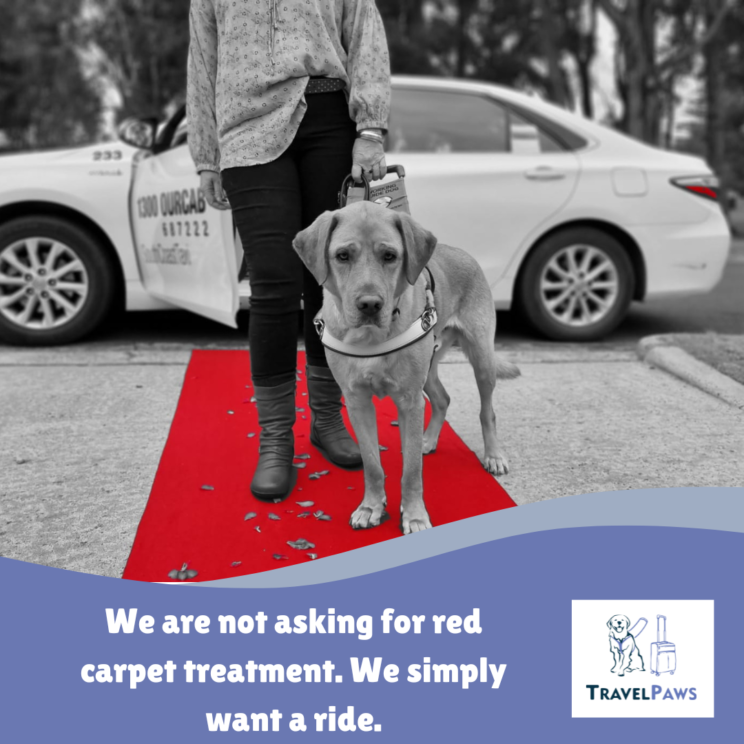 Handlers are frequently denied service by taxi and ride share drivers who refuse to allow Assistance Dogs in their vehicles, despite their obligations under law. Assistance Dog refusals impede Handler's capacity to access transport services, and therefore need to be addressed if the government is to meet its goal of ensuring transport networks are accessible to all.
Taxi and Rideshare refusals profoundly impact the independence of Handlers by delaying, or even entirely preventing Handlers from securing vital medical assistance, maintaining employment commitments, shopping for essentials and achieving community engagement to combat isolation. Refusals are humiliating, can be aggressive and negatively impact the Handlers' independence. Refusals can make Handlers feel angry, upset, fearful, isolated, and anxious. Some Handlers report being left stranded in an unfamiliar or wrong location. Many report being verbally mistreated. Refusals are devastating to Handlers. They often lead the Handler to avoid going out, not wanting to make appointments for fear of not making it or not making it home. Many Handlers have challenges in daily life as it is. This challenge is devastating and with no justification.
Handler Insights:
"I've had multiple refusals to the point where I actually hate getting taxis and Ubers now. They've [left] me on the side of the road at 11 o'clock at night, which is where I find it really scary"- Jo, Victoria, Australia.
"I felt very unsafe and just really, really frightened by the whole ordeal. That you're not wanted because of your disability and because of your mobility aid, that is something I'll never be able to fully shake"- Lucy, Victoria, Australia.
For more from Handlers, please watch TravelPaws' video in which Founder & Director Nina Smith discusses taxi and rideshare refusals with three Victorian Handlers from Australia- Jo, Lucy and Donna.
Eliminating Taxi and Rideshare Refusals
An Australian Initiative
The Australian Assistance Dog Advisory Committee-Taxi & Rideshare Services (AACTRS) is a national Committee composed of senior members of five key organisations:
Guide Dogs Australia
Assistance Dogs Australia
Blind Citizens Australia
Dog Guide Handlers Australia
TravelPaws
The committee strives to deliver a united approach to preventing and eliminating refusals in taxi and rideshare services in Australia for people with approved Assistance Dogs.
We aim to share learnings from this committee with other parts of the world.
TravelPaws #StopRefusals Campaign
TravelPaws has launched the #StopRefusals Campaign which aims to raise awareness about Handlers' rights to access taxi and rideshare services with their Assistance Dogs, as well as to encourage improved compliance with, and enforcement of, the laws requiring drivers to carry Assistance Dogs.
TravelPaws asks 2 questions:
Why is the management of taxi and rideshare companies not ensuring their drivers uphold the law?
Why are our governments not holding them to account?
It is our intention to convey the urgent need for safer and more accessible transport for all Handlers by highlighting the impact of taxi and rideshare refusals.
To get involved, please follow us on Facebook and Instagram where you can share your stories and our #StopRefusals content!